Best Abs Workouts For Women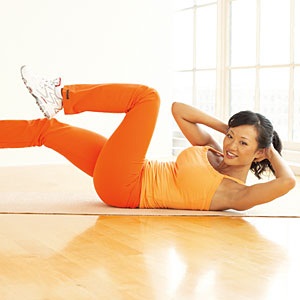 When it comes to workouts for women, there are different kinds for different targets. For some women losing weight from the thighs may be important, while for some other women, the focus is on the abdominal region. Well shaped abs go a long way in making a woman's body look leaner.
Investing in regular workouts can be very rewarding in terms of a fit and toned body that looks amazing in any kind of clothing. Also, if you want to sport a bikini at a beach, having a well toned abs is a must because you do not want to show a bulging tummy to the world.
A regular workout regimen is not only important for losing weight, but also keeping you fit and active. Working out is an important part of keeping your body in shape. While beginning on a workout routine, it is always better to start with the areas of your body which are easier to work on. These areas are the abs. This is because the abdominal region contains lose fat that is the most easiest to burn through a workout.
Also, the abs is a good place to begin since it is the fat in the abs that shows the most in your appearance. In addition fat in the abdominal region can also lead to back pain, low stamina and so on. Hence it is important to train your abs through the best abs workouts not only for looking good but also for remaining healthy.
Working out the abs helps to strengthen the core area of your body, that is the spine, and protect it from bearing too much weight. This article will elaborate on the reasons for losing abdominal weight and suggest some of the best abs workouts for women.
Reasons To Work On Your Abs
The following points are good reasons for you to start working out your abs.
Firstly, exercising your abdominal region helps to reduce the fat around the waist very easily and the abs retains the shape of your waist so that your waist looks slim and trim.
Secondly, exercising the muscles of your abs regularly helps to make your joints stronger. Keeping your joints strong is especially important if you are into sports or heavy physical activity. Keeping the joints strong also helps to increase the endurance capacity of your body.
Thirdly, if there is a lot of weight and pressure on the spine, then it can lead to back pain. If you have fat concentrated in the abs region, then it can create pressure on your spine leading to back pain. Hence exercising your abs will help to get rid off the back pain.
Fourthly, exercising the abs leads to strengthening of the spine. A strong spine increases the capacity of your body in terms of endurance and stamina helping you to perform better physically. With a strong spine, you will be able to run faster, walk swiftly, and you will experience reduced levels of tiredness. A strong spine also increases the capacity for sexual stamina.
Best Abs Workouts For Women
For many women, abs exercises may seem boring and arduous, but the best part about the exercises is that you get a well toned stomach and abdomen and it does not take much time. You can make your workouts more interesting or stimulating by listening to some music while you exercise. The following exercises are some of the best abs workouts for women.
Bicycle Exercise
This is really simple exercise for your abs but at the same time, it is also one of the most effective exercises for the abs. For doing this exercise, you do not need an actual bicycle. For doing this exercise, you need to lie down on your back and with your hands supporting your head. Bend your knees to a 45 degree angle and lift your legs into the air to do a motion similar to pedaling a bicycle.
Photo Credit: Designemo.com
While doing this, you can also try to touch your right knee with your left elbow and your left knee with your right elbow. Repeat this exercise a few times. You can do this work out for a minimum of three days a week for the best results. This exercise may be a little exhaustive but it is very effective in burning the fat in your torso and abdominal region.
Abs Isometric Crunches
In this exercise, you need to exhale to the maximum limit possible for you so that your belly gets pushed inwards and hold this position for as long as you can. Inhale again and repeat the procedure for a few times. This is one of the best abs workouts to control and strengthen the muscles of your belly and it will help you to keep your stomach flat and without any bulge.
Sprinting
Sprinting is one of the quickest ways to lose abdominal fat although it is not a conventional exercise when it comes to exercising your abs. A few sessions of sprinting help you to do a quick workout on your abs and it is one of the easiest ways to train your abs. If you have a nice track for doing sprinting exercises, then it is all the better for you.
Vertical Leg Crunches
For doing this exercise, you need to lie down on your back and lift your legs at a 90 degree angle while keeping your knees crossed. While doing this, lift your shoulder blades from the ground as much as you can and move towards your feet. Keep your hands behind your head throughout this time. Repeat this procedure a few times. This is an extremely effective exercise for working your abs and it also helps to reduce some of the burden from your spine.
Four Count Crunches
For doing the four count crunch, lie down on your back with your knees bent at 45 degrees. With your hands behind your head for support, try to raise yourself as much as you can towards your knees. This is a simple exercise but very effective and one of the best abs workouts for women.
Photo Credit: Musclesforwomen.com