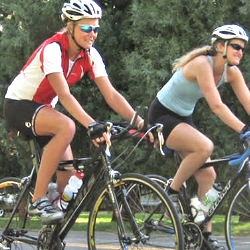 Aerobic exercise is one of the most powerful ways to improve and maintain your overall fitness and well being.
It is important to choose an activity that you enjoy doing. Bicycle riding is one of the best aerobic programs to achieve short term and long term fitness goals. Besides being a pollution free and economic mode of transportation, bicycle is also an excellent health equipment to maintain weight loss goal and attain fitness.
How to start:
You don't need to possess a flashy bike to start your bicycle fitness program. A normal good brand bicycle is all you need to start your workout. The beginners should set a realistic target and should initially go by time rather than distance.
When you start cycling all your efforts work against the air resistance. As the wind speed increases you have to make extra efforts to fight against the resistance. Keep a check on your pulse and do not exceed the safe maximum.
Fitness with an Exercise Bicycle:
If you are not keen to ride a bicycle outdoors or the climate is not allowing you to move out, there are a good number of exercise bicycles available to give you the same fitness benefits in the comfort of your home or a health club.
The exercise cycles are an excellent piece of equipment to attain a high level of aerobic fitness. They have a resistance or tension building program which gives you the advantage of pedaling against resistance that helps burn more calories.
How to choose a bike:
For outdoor cycling choose a good bicycle with gears. Do not go for ultra flashy ones. Make sure you wear a helmet while riding. For indoor exercising bikes, a big range is available in the stores. Choose one with few good manual programs, resistance mechanism and a calorie counting and pulse rate monitor.
Interval training with Bicycle:
Interval training is an effective form of exercise that helps you lose weight fast and burn more calories. For beginners, interval training on a bicycle is a 20-30 minutes training program.
Start with a warm up for 3-4 minutes and then increase the speed and do a short-bust of high level exertion, slow down for an interval of 1 or 2 minutes and repeat again. In the end do a cool down slow pedaling for 3-4 minutes. After a few weeks of this initial training, you can move to the advanced program and increase the time and frequency of intervals.