Effective Methods Of Seborrheic Dermatitis Treatment
Seborrheic dermatitis is a very common skin condition which is characterized by the formation of flaky and itchy skin. This condition can occur in the regions of the scalp, face, back and chest, where the skin is extra oily. Many factors like hormonal imbalances, stress and exposure to harsh weather conditions can lead to the development of this seborrheic dermatitis.
Even though not a serious condition, seborrheic dermatitis can be a cause of great discomfort and embarrassment. To deal with this issue, one can follow a number of methods.
Some Effective Methods Of Seborrheic Dermatitis Treatment
Use Medicated Shampoos
One of the best ways to treat seborrheic dermatitis of the scalp is to use medicated shampoos. Shampoos which contain salicylic acid and selenium sulfide as the main ingredients, are found to be very effecting in curing itchy and flaky scalp. You can start off by using the shampoo daily, and once the condition has considerably improved, you can cut down its usage to once a week.
Photo Credit: Exportersindia.com/jmsmediconpltd/products.htm
Use Thyme Hair Rinse
Another effective way to get rid of seborrheic dermatitis of the scalp is to use a hair rinse made of thyme. The antiseptic action of this herb is found to be helpful in getting rid of the inflammation present in the scalp.
To prepare this hair rinse, you should boil about 5 tablespoons of dry thyme in 2 cups of water. After 15 minutes, strain this solution and allow it to cool. Pour this thyme hair rinse over your hair, massage your scalp thoroughly and rinse off after half an hour with cold water.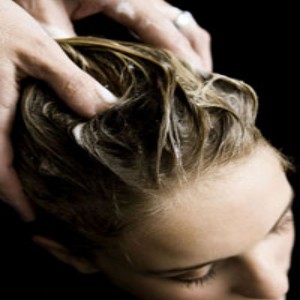 Photo Credit: Haircosmetology.com/perfect-hair-guide/home-remedy-for-better-hair/
Treatment With Honey
Using honey is a tried and tested method of seborrheic dermatitis treatment. In this method of treatment, 10 tablespoons of raw honey is first diluted by adding to it 1 tablespoon of water. Apply this diluted honey on to the affected areas of the skin and massage for about 5 to 10 minutes.
Leave on the honey for around 3 hours and wash off with warm water later on. Continuing this treatment for a month will provide you with complete cure from the condition of seborrheic dermatitis.
Photo Credit: Medtips.in/honey-and-weight-gain/
Modify Your Diet
In order to cure seborrheic dermatitis, you can bring about certain changes in your diet. You can include in your diet, food items like nuts and fish, which are rich in essential fatty acids.
Including lots of fruits and green vegetables will also help in getting rid of skin inflammations. At the same time, abstain from having food items containing sugar and refined fats, as they can lead to the deterioration of skin health.
Photo Credit: Everydayhealth.com/pms-photos/10-healthy-ways-to-manage-pms.aspx
Have Dietary Supplements
Having fish oil supplements are found to be effective in reducing skin inflammations and curing the condition of seborrheic dermatitis. Having evening primrose oil and Vitamin E supplements is also another effective way to deal with skin inflammation.
To cure seborrheic dermatitis, you can also make use of many over the counter anti fungal topical medications. Along with following the above said remedies, see to it that you wear loose and comfortable cotton clothing that does not irritate your skin.  You should avoid the use of harsh soaps and detergents and should also refrain from scratching the affected areas of your skin.