Exercises To Tighten The Belly
By
aditi
on April 20, 2012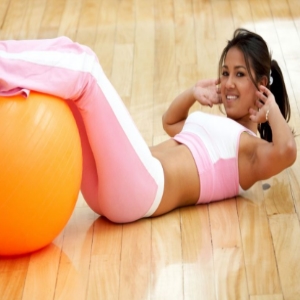 Tightening the belly is often a matter of great concern for any person who is at all conscious of his or her looks. Loosening of the belly skin and muscles is a common problem faced by people who have recently lost weight or for women who have recently given birth to a baby.
Sometimes, belly muscles gets loose with age. So, if you really want to look great and have a flat and toned belly, here are some common exercises that may help you to get in the right shape.
Exercises To Tighten The Belly
Crunches
Crunches or abdominal crunches, as these sets of exercises are also known, are the exercises that you cannot do without. These are the basic exercises for all tummy toning exercises.
Photo Credit : Sinsacrificios.com/actividades/minutos-libres-minutos-abdominales/
The commonest way to do it is to lie down flat on your back with your knees bent and laying your feet flat on the floor. Now you should fold your arms on your chest and try to raise your head from the shoulders to about 6 inches off the ground.
This should contract the abdominal muscles. Hold the position for a second and then lower your back but do not rest. Repeat this. Another variation of this basic exercise is putting up your legs at 90 degree to your body and raising the hands while doing the crunches. Holding two dumbbells make the exercise more challenging.
Leg Raises
This is another set of exercises that are commonly prescribed for tightening the belly muscles. These help toning the lower abs. for this exercises you will have to lie down flat on the floor. Put both your hands under the hips at the point of the tailbone to take off the pressure from your spine.
Photo Credit : Yourbeautyandfitness.com/5-exercises-for-a-beautiful-figure.html
Now, lift both the legs, keeping straight at the knees, to about 6 inches off the ground. Now start lifting the legs until your soles point towards the ceiling. Hold for a second and bring it down to the starting position, that is, 6 inches from the ground. Repeat.
Also Read
Tightening Skin After Weight Loss
Shed Belly Fat With 5 Best Exercises
Drawing the Belly Button towards the Spine
This is an exercise that can be done by the people who may not be able to take the strain of crunches and leg raises. This may be called a posture rather than an exercise. Interestingly, this can be done any time, anywhere and by anyone.
Photo Credit : Bodyandsoul.com.au/body+fitness/workouts/five+steps+to+amazing+arms,8573
Just sit or stand straight and try to pull in your tummy as much as you can. Hold for a second and repeat. This may look simple but once you start trying it you will feel the benefits.
Pelvic Tilts
This is another of the common exercise of the abdominal muscles. For doing it you will need to lie on your back, keep your knees bent and put your feet flat on the floor. Now start tilting your pelvis as you try to flatten out your back on the floor.
While doing it, forcefully contract the abdominal muscles and hold for a second. Release the strain and repeat. This is not only good for tightening the tummy region but also as a corrective exercise for lower back pain.
Photo Credit : Fittplan.com/abdominal-exercise-for-women
Exercises To Tighten The Belly

,