How To Care For Skin Boils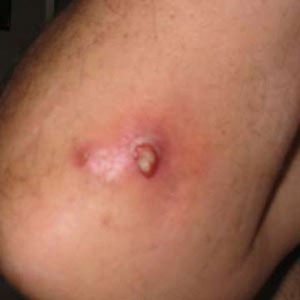 A skin boil is a common condition, which troubles many people around the world. Boils which appear as pus filled bumps on the skin surface, tend to spoils the beauty of your skin. There are many factors like improper hygiene, unwanted stress and allergies, which can lead to the formation of boils.
If you develop a skin boil, then it is necessary that you take adequate steps to prevent it from spreading. Do read on to know more about the remedial measures, which will allow you to care for skin boils in an effective manner.
Cleanse The Affected Area
If you have noticed that a boil has popped up on your skin, the first thing to do is to cleanse the affected area thoroughly using warm water and antibacterial soap. While cleansing, take care that you do not apply too much pressure, as it may pop open the boil.
Repeat the cleansing procedure twice a day and dry the area thoroughly using a clean cotton cloth. You can also apply on the boil a solution of benzoyl peroxide, in order to fasten the healing process.
Apply Hot Compress
In order to drain a skin boil, you can try using a hot compress. The action of heat will help the boil open on its own, thus leading to the drainage of the pus stored in it. Apart from that, applying a hot compress will also increase the blood circulation in the affected area, thereby fastening the healing process.
The hot compress is to be applied onto the skin boils for at least 30 minutes a day. Repeating this process for about a week will cause the boil to drain out completely.
The Effective Home Remedies For Skin Boils

There are certain home remedies which can be followed so as to bring about the quick healing of the skin boils. According to one such remedy, a paste made out of corn meal and water is to be applied on the skin boil.
Reapply this paste every 2 hours, in order to break open the boil and to facilitate its quick and complete draining. Applying the juices of onion and garlic on the boil will also help in its quick healing.
The After Care Process
If you notice the presence of pus in your boil even after it has popped open, then you should immediately adopt some steps to ensure complete draining of the boil. For this purpose, you can prepare a saline solution by adding 1 teaspoon of salt to a hot cup of water.
A washcloth dipped in this saline solution, should be held over the boil until it has cooled down completely. Repeating this processcontinuously for 2 to 3 times will help to make the skin boil completely pus free.
Change Your Eating Habits
In order to promote quick healing of the skin boils, it is necessary that you make certain changes in your diet. To boost up the immune system and to prevent infections, you can include more garlic and fiber rich fruits and vegetables in your diet.
You should avoid having refined sugars and processed food items, as it can trigger infections. Drinking at least 8 glasses of water a day is essential, as it helps in flushing out the infection causing toxins from the body.If the above said remedies do not work out, then do make it a point see your physician in an immediate manner.
How To Care For Skin Boils

,