How to Lose Stomach Fat In Your 50s
By
sumer
on April 24, 2012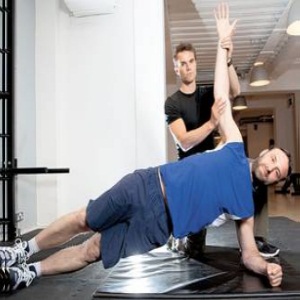 Are  you frustrated because of extra stomach fat? Do you want to look fit and young? People in their 50s have less energy and stamina and therefore cannot perform rigorous exercises to get rid of extra body fat. This article is specifically written for old aged people who want to get rid of excessive body weight.
With the help of the tips given in this article, old aged people would be able to lose stomach fat in a natural and effective way. There would be no need to carry out harsh workouts to lose fat.
Also, there would be no need to go to any gymnasium to lose stomach fat. By doing certain simple exercises and taking care of the diet, old aged people would be able to see a considerable improvement in their body shape. Read below to learn how extra stomach fat can be lost without going to the gym or without taking any drugs or pills.
Ways to Lose Stomach Fat in 50s
Eat healthy foods
Old people should be very careful about their diet plan. They should include all healthy foods in their regular diet, so that extra fat is not accumulated around the stomach. The diet of the old aged people should include green vegetables, fruits, cereals, fish, soybean and yogurt.
Photo Credit:  Radiopeyvand.eu/page2-1.php
These foods contain all the essential minerals and vitamins which would definitely help in meeting all the nutritional requirements of the body. Junk foods and processed foods should not be included in the regular diet plan, as these foods are very harmful for the health and cause weight gain.
Follow proper diet plan
Old aged people should make sure that their digestive system remains in good health. They should eat several times during the day as against commonly consumed three big sized meals. The digestive health would be improved and weight loss process would be speeded up with the help of following a well planned diet regimen.
Do simple cardio workouts
Old people can do simple cardiovascular exercises like dancing, swimming and brisk walking. These exercises would not help in getting rid of extra stomach fat, but would also help in increasing the stamina and energy level of the people. The metabolism level of the people would be boosted up with the aid of doing these exercises on regular basis, thus helping in weight loss process.
Drink enough water
Water is one of most essential elements of life. Everyone should drink lot of water daily, so that all the waste from the body is flushed out in an effective manner. The health of the digestive system would be improved and extra stomach fat would be lost gradually with the aid of increasing water intake in regular routine.
The above give tips are very simple to follow and are beneficial not only for the people in their 50s but also for others. Everyone can follow these tips to remain in good health and to lose stomach fat.
Photo Credit: Independent.co.uk/life-style/health-and-families/features/belly-fat-the-battle-of-the-bulge-2291048.html
How to Lose Stomach Fat In Your 50s

,