Losing Weight By Jogging
By
Sagar
on December 15, 2010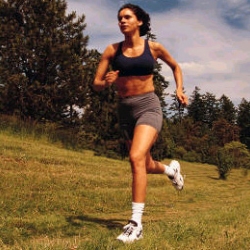 Jogging is one of the best, easiest, and most effective ways of losing weight fast. This is because it utilizes nearly every part of the body and keeps the body in smooth motion. In short jogging is the right answer to all your weight problems.
It is a very cheap exercise to do and every one recommends it when it comes to losing weight and wanting to lose it fast. The first rule of weight loss is that mentally prepare yourself for the changes you will try to bring about. This is very important because unless you are mentally ready for it you will not be able to physically execute it.
Before you start jogging spend 5 to 10 minutes stretching different parts of your body. Stretch your legs, arms, hands and back. This is important because it will help increase the blood flow in your muscles, as they will need more oxygen. In addition to that they will reduce the chances of muscle pulls and blood clots.
It is best if you jog in the early morning hours or early evening hours. If you have a 9~5 job then it is advisable that your jog in the evening. This can be very advantageous because jogging after work will help you get rid of your work stress and keep your mental balance at an all time high. Following that you can have a nice shower at home and relax with your family.
Jogging will help you lose weight because it moves the entire body. All our body parts are in motion. This way all fat gets spread evenly and doesn't accumulate in any one place. In addition to that your metabolism will increase helping you burn more and more calories. Having a healthy diet with this will help your body store energy and burn all the fat, another very advantageous thing.
Do not exert yourself as this can hurt you. Start jogging gradually for 15 to 20 minutes a day and slowly increase it. Within a month you will have lost a few good pounds of weight. Stay dedicated to it and enjoy your weight loss program.