Treat Peptic Ulcer With Diet
An open sore in the stomach or the duodenum is known as peptic ulcer. It is usually a sign of infection caused by the H. pylori bacteria. Prolonged use of non-steroidal anti-inflammatory drugs can also cause peptic ulcers.
The bacteria or the pain relief drugs damage the protective lining of the stomach or the upper intestine, exposing the tissues of these organs to the erosive activities of hydrochloric acid and the enzyme pepsin.
Your diet plays an important role in alleviating the symptoms of peptic ulcer. Specific food components can slow down growth of the H. pylori bacteria and accelerate recovery.
Diet For Peptic Ulcer
Eat Fiber Rich Fruits and Vegetables
A fiber rich diet can significantly lower the risk of peptic ulcer recurrence. Scientific studies suggest that soluble dietary fibers such as the ones found in legumes, beans, oranges, potatoes, apples and bran cereals are especially beneficial for people suffering from peptic ulcer.
In peptic ulcer patients, the rapid gastric emptying, that causes abdominal pain and discomfort, can be inhibited by consuming pectin or guar gums, which contain dietary fibers called gel polysaccharides. Peptic ulcer patients should consume about 28.2 grams of fiber daily.
Consume Linoleic Acid
Linoleic acid is an essential fatty acid found in seed and vegetable oils. Some health experts believe that insufficient linoleic acid intake can worsen the symptoms of peptic ulcer. Linoleic acid stimulates synthesis of prostaglandins, which protect the gastrointestinal tract from toxic substances.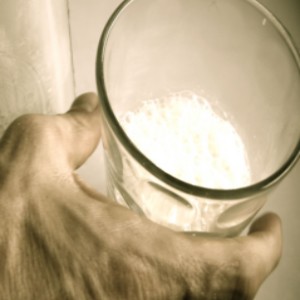 Photo Credit: Nourishedkitchen.com/drink-raw-milk/
Add Vitamin A to Meals
Studies have revealed that adding sufficient vitamin A rich fruits and vegetables to the diet can benefit people suffering from peptic ulcers. Beta-carotene present in yellow and orange colored vegetables and dietary retinal found in eggs, dairy and organ meats can reduce the risk of peptic ulcer recurrence.
Photo Credit: Yummy.ph/features/food-stories/details/orange-recipes-8-citrusy-dishes

Consume Vitamin C
People with gastric disorders tend to suffer from vitamin C deficiency. Peptic ulcer patients can take 500 to 1000mg of vitamin C supplements, one to three times a day. Supplements are usually recommended for people suffering from bleeding ulcers caused by prolonged use of pain relief medications.
Drink Cranberry Juice
The antibacterial ingredients in cranberry juice can alleviate the symptoms of peptic ulcer by inhibiting growth of the H. pylori bacteria. Peptic ulcer recurrence might be prevented by drinking a cup of cranberry juice daily.
Consume Flavonoids
Flavonoids can suppress H. pylori growth in the stomach and duodenum. These plant compounds are found in a large number of fruits and vegetables. Apples, blueberries, tomatoes, apricots, berries, pears, onions, cabbages, beans, celery and parsley are common sources of flavonoids.
Photo Credit: Realage.com/food/flavonoids
Include Probiotics in Your Diet
By restoring the normal microbial balance in the gut, the live bacteria in probiotic food products can prevent growth of the H. pylori bacteria. In addition, probiotics can also prevent any microbial imbalance that might occur following intake of antibiotics for treating peptic ulcer. Yogurt, sour cream and fermented soy products are common dietary source of probiotics.
Foods To Avoid
Coffee and alcohol may stimulate acid secretion, which worsens the symptoms of peptic ulcer. Sugar and refined carbohydrates are also not recommended for peptic ulcers patients.